MYOB Enterprise Solutions Ecosystem
As MYOB Advanced is sold exclusively through our network of Business Partners, this approach of an eco-system will be used within your Go-to-Market model. In addition to your membership within the MYOB Developer Program, you will be developing a business relationship with them too.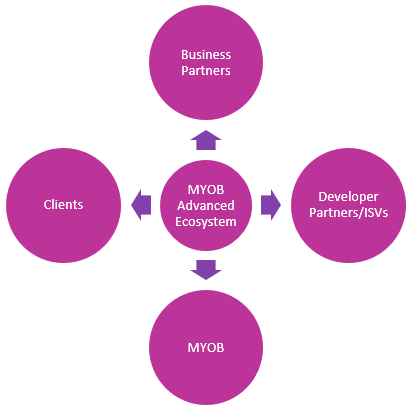 Partnering with the Business Partners
Who are our Business Partners?
An MYOB Business Partner is an independent business which has been approved by MYOB to sell, implement and support one or more MYOB Enterprise Solutions products. These companies are also known as resellers.
MYOB has a large and mature community of Business Partners These companies will be interested in either you selling your solution to their customers or prospects or working together on these sales opportunities. Building relationship within this ecosystem can help you:
Broaden the awareness of your solution
Expand your customer reach
Increase sales success
Provide ongoing support and customer service
Identifying the right partners will help develop partnerships to build your business.
In selling through this channel, the most important task is to define what you're looking for in potential channel partners. MYOB can help identify potential partners to distribute or co-produce the solution (if relevant).
Our Business Partners are listed here:

Australia - https://www.myob.com/au/enterprise/resources/partners
New Zealand - https://www.myob.com/nz/enterprise/resources/partners
MYOB's Role
Identifying Sales Opportunities
MYOB's role is primarily to introduce the add-ons to the Business Partner channel. They control the sales engagement process and make decisions on what add-ons to promote to their clients. Success in this market is building relationship with the business partners. Relationship with MYOB is just a foot in the door to get you in this market.
MYOB does not have a strategic alliance with any specific ISV and the different membership levels solely help get the ISV's get exposure in the various sales and marketing initiatives we undertake with our Business Partners.
Within a specific sales opportunity, we will be guided by the following parameters:
Functional fit for this specific client
Geographical footprint
Business Partner preferences