What is the MYOB LiveRelay?
The EXO Business API uses the MYOB LiveRelay technology to connect to an on premise database from a remote location. The MYOB LiveRelay is included as an optional service when installing the EXO Business API.
MYOB LiveRelay Architecture
High performance and clouded backed scalability
No network, firewall or DNS configuration required
Easy to install, configure and troubleshoot
Hosted on Amazon Web Services
Secure, cost effective provider of hosting services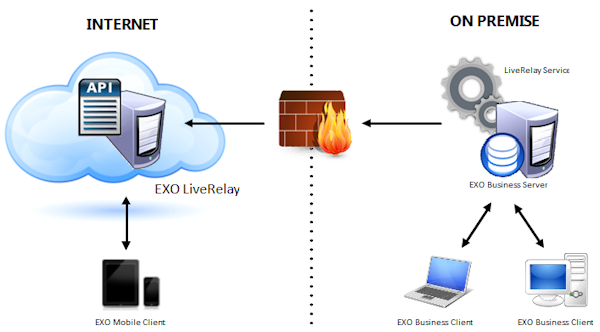 How to install the MYOB LiveRelay
The MYOB LiveRelay service is installed using the EXO Business Services Setup Wizard. This install wizard is supplied by MYOB, packaged with the main product installer for EXO Business.
Run the MYOB EXO Business Services Setup Wizard, and when asked which features you want to install, make sure that the API Service option is enabled.
After installation, the Live Relay service must be set up for each EXO Business database connection, using the MYOB EXO Business Service Configuration utility. This utility can be run immediately after installation, or you can open it from the EXO API install directory at any time.